Design and Display
The iPad Pro 12.9 2020 design picks traits from last year's model. It is basically the same design with a very minor change. It retains a modern look and feel with an ultra-thin chassis, rounded corners, and minimal bezels surrounding the display.
Speaking on display, you have got a special 12.9-Inch liquid retina display based on IPS LCD panel. The display has a 120Hz refresh rate, a screen resolution of 2732 x 2048, and a screen density of 265 PPI.
It features true tone tech here, which automatically adjusts the color temperature depending on the ambient light. This display can go as bright as 600 nits, to ensure you get to see characters on the display when you are outdoors.
On the rear of this distinguished iPad, we have a camera module, which houses dual cameras and a Lidar sensor. The rear panel is also home to the Apple logo which indicates its an Apple iPad and also smart connector which allows the iPad to connect to the Magic Keyboard and also Folio cases.
The All-New Apple Magic Keyboard Case
iPad support for keyboard cases isn't news anymore, however, what makes the all-new Apple Magic Keyboard a big deal, are the new features it packs in, features that improve its ergonomics, which in turn places it in a sweet spot to being a laptop alternative.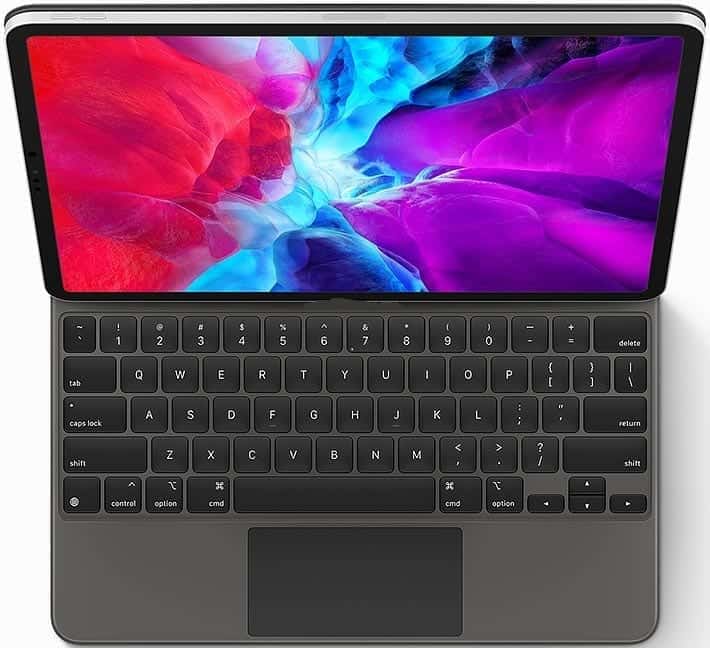 The Apple Magic Keyboard case features a hinge and magnets that lets you position the iPad at an angle that separates it from the iPad. This provides iPad users with the kind of ergonomics we get on laptops.
The keyboard is backlit and also offers some key travel, which gives a subtle mechanical feel. The new support for trackpad and mouses facilitates the incision of an inbuilt trackpad, which further enhances the whole laptop's alternative experience.
The Cameras
Aside from featuring an astute design, the iPad Pro 12.9 2020 also offers uses with very capable camera hardware which appears to be one of the best on a Tablet.
The rear camera department is home to a 12MP primary camera, a 10MP ultrawide camera, and the all-new LiDAR (Light detection and ranging) sensor.
The LiDAR sensor measures distance by illuminating the target with laser light and measuring the reflection. This helps with getting good depth information for portrait photography. This sensor also helps in 3D mapping, which in turn also helps with augmented reality and other 3D based tech.
The rear camera system is capable of shooting videos 4k videos up to 60fps and also 1080p videos up to 240fps. You have also go HDR for photos.
Selfies are manned by a 7MP camera that is capable of shooting 1080p videos in 30 and 60fps. You also get HDR and Panorama for photos.
Hardware and Software
Since the inception of the iPad, Apple has continually shown us that they are capable of manufacturing tablet hardware that stands out amongst its peers. It has over the years proffered hardware upgrades that keep them in the zenith spot.
The Apple iPad Pro 12.9 2020 continues the trend. Packed in this tablet is hardware need to give you a very smooth and lag-free experience.
Nested in this tablet, is an Octa-core A12Z Bionic Chip, 256GB of RAM, and 8-core Apple GPU, storage options ranging from 128GB – 1TB and a massive non-removable 9720 mAh Li-Po battery.
On the software side, the iPad Pro 12.9 2020 runs on the iPad OS 13.4, which is upgradable to the iPadOS 13.4.1.